about jim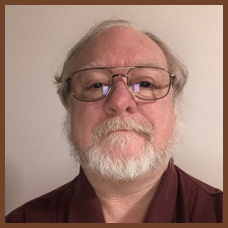 As a child, jim was a very creative sort of person, and created art from almost anything that could be used as a medium. This was observed and encouraged by his art teachers. His awareness of the printing process began when his father took him and his siblings into the high school printing classrooms with him during the summer time as he set up the classroom for the upcoming school year.
In high school, jim became even more interested in printing while taking Industrial Education classes. He also greatly enjoyed all of the Art classes he was able to take. In his senior year, in a couple of elective English classes, jim also discovered creative writing and journalism.
jim attended Milwaukee Area Technical College (MATC), where he pursued and graduated with two Associate Degrees, both in Printing and Publishing, one in Operations, and the other in Administration. He also was a work study student MATC's in-house print operation, where he also assisted fellow students who used the various labs. Several of jim's instructors, observing this, encouraged jim to pursue a teaching degree in Industrial Education with a concentration in Printing.
jim then attended UW-Stout to earn his Bachelor of Science Degree in Industrial Education with a concentration in Printing. Along the way, he also received a Minor in Journalism. During a fast and furious 3 years at Stout, in addition to attending classes full time, he wrote articles for the school newspaper, was a member of the Pawn Coffeehouse Commission (where he did the sound for the entertainers).
Karma intervened when jim graduated from Stout, instead of finding a job as a Print Instructor, he began a career in the printing industry. jim's knowledge from both MATC and Stout served him well for many years in the print industry, especially in the prepress area. During his tenure in the printing industry, jim continued to take classes, where he fell in love with programs such as Photoshop, Illustrator, Word, and a whole lot of other imaging/text programs. At one time he even explored website design, but he was not fond of workinging with tablels and having to do inline coding to create a website.
Synchronicity, once again intervened in jim's life. He was laid off permanently from his many years in the printing company that he worked at.
After taking some assessment tests, where website design turned up to be one of the top three career choices for him to pursue (number one was Electronic Prepess for printing, and number three was accounting). jim then decided to pursue website design again. He discovered that the it was something that really excited him because it was no longer based upon table and inline hand coding. He graduated from Moraine Park Technical College with a diploma in Information Technology – Web Design/Developer, with high honors.
jim is currently employed as an in-house print shop technician. On the side, he creates and maintains websites for some local non-profit organizations. He still plays with Photoshop, and other imaging programs. He also is interested in Alternative Health programs, and like to meditate, and likes to do other creative things. He is an avid viewer of the GAia Channel.